Description
Succulents make amazing wedding & event favors!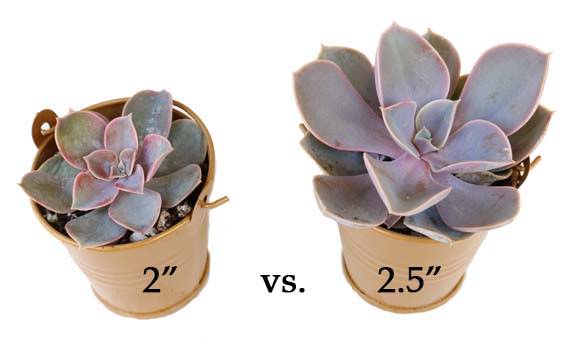 These succulents are hardy and full.
They will vary in width (2.25" - 3") depending on factors such as type, shape or inventory.
About the height of a credit card.
Pails - 2" tall, 2.25" wide (top)
Terracotta - 2.25" tall, 2.5" wide (top)
Votives - 2" square
Up to a YEAR in advance!
At minimum, try to order 2 weeks ahead of the date you need them.
Ordering late? Not a problem! We can usually complete rush orders. (additional shipping charges may apply)
Succulents ship USPS Priority 1-3 day or Fedex 2-5 day depending on size.

Your succulents will arrive 7-10 days prior to the event.
When checking out, add your event date for delayed shipping.
We ship 1000′s of succulents weekly, ALL year round, ALL over the country.
Our 9,000+ Reviews speak for themselves.
Issues? Let us know within 24 hours and we'll fix the problem!
What colors / types will I receive?
Succulents are mainly GREEN hues.
We have 60 types, we send the best quality plants we have in stock
But these rosette wedding succulents have the most  variation in color. (More appropriate when you need more color "Pop"!)
Did you know we sell these in a Monthly Subscription?
Get 5 unique types each month here!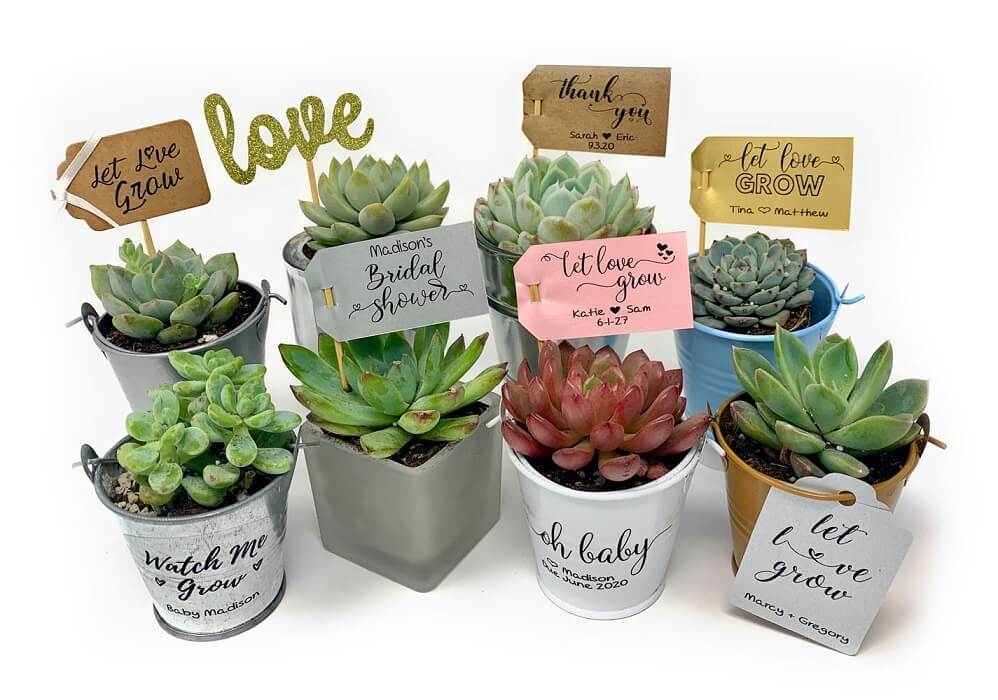 Add custom flags, tags, or stickers with your name, custom text or logo for added cute factor.
or Upgrade from plastic pots to: colorful Pails, Terracotta Pots or Glass Votives.
NOTE: ALL succulents ship in plastic pots.
Transfer is done by you. Watch How Here
People Love Our 2.5" Rosette Succulents! Have a Read:
Absolutely Perfect Bridal Shower Favor!
I ordered 55 for my daughters bridal shower. They arrived exactly when promised and I was so impressed by the condition of this order! They were packaged with extreme care to arrive in perfect condition and then the quality of the plants was beyond my expectations! I would recommend them to anyone!
Oh. My. Gosh!
Purchased these for a baby shower and everyone loved them.
I bought the "Watch Me Grow" picks for them as well.
The plants came perfectly packaged all in great condition.
I couldn't have been happier with my choices!
Perfect little bridal shower gift
I purchased these as a bridal shower favor for each my guests! I had them shipped to PA in March, so I included a heat pack. My succulents all arrived intact and healthy! They were a huge hit! I boxed them in cupcake boxes from Amazon to send them home with the guests. I would definitely recommend ordering from the succulent source to anyone!
Gorgeous!!!
The most beautiful succulent I have ever seen! It is flowering a beautiful yellow flower that I am obsessed with!! Thank you so much for such a beautiful succulent!! I can't wait to display is at my wedding in June!
Payment & Security
Your payment information is processed securely. We do not store credit card details nor have access to your credit card information.
---
We take the stress out of Weddings, Showers, & Events with our:
Excellent Customer Service, Safe Shipping, and Beautiful Succulent Favors.
---