Description
Succulents make amazing wedding & event favors!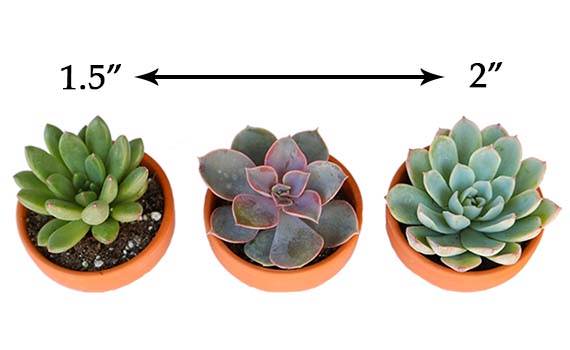 Our 2" succulents vary in width 1.5"-2"
Size depends on factors of type, shape & inventory.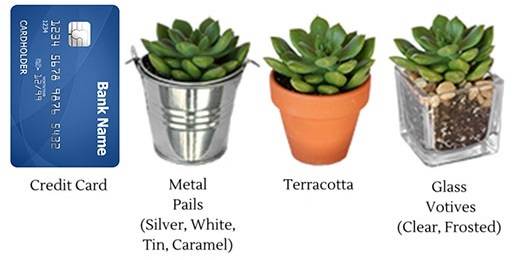 About the height of a credit card.
Pails - 2" tall, 2.25" wide (top)
Terracotta - 2.25" tall, 2.5" wide (top)
Votives - 2" square
Up to a YEAR in advance!
At minimum, try to order 2 weeks ahead of the date you need them.
Ordering late? Not a problem! We can usually complete rush orders. (additional shipping charges may apply)
Succulents ship USPS Priority 1-3 day or Fedex 2-5 day depending on size.

Your succulents will arrive 7-10 days prior to the event.
When checking out, add your event date for delayed shipping.
We ship 1000′s of succulents weekly, ALL year round, ALL over the country.
Our 9,000+ Reviews speak for themselves.
Issues? Let us know within 24 hours and we'll fix the problem!
What colors / types will I receive?
Succulents are mainly GREEN hues.
We have 60 types, we send the best quality plants we have in stock.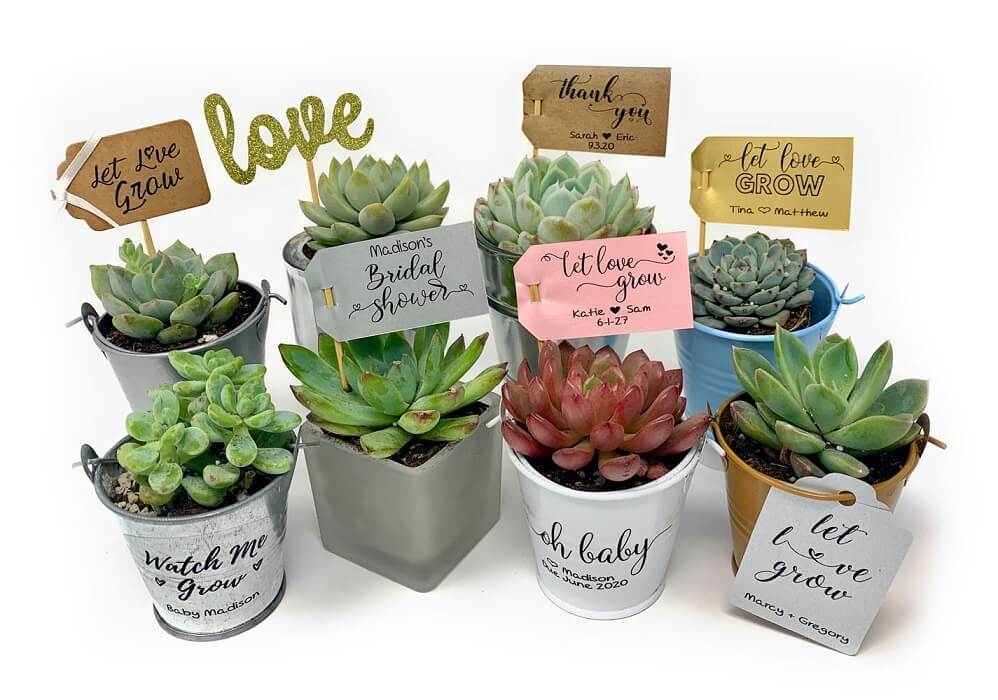 Add custom flags, tags, or stickers with your name, custom text or logo for added cute factor.
or Upgrade from plastic pots to: colorful Pails, Terracotta Pots or Glass Votives.
NOTE: ALL succulents ship in plastic pots.
Transfer is done by you. Watch How Here
People Love Our 2" Wedding Succulents! Have a Read:
Amazing product
We loved these little plants! They all looked amazing when they came and continue to look amazing! Thank you!
Excellent quality and print timing
I used these as wedding favors & added decor at my wedding and I was very impressed with the quality of the plants once they arrived. My delivery provider even placed these upside down when delivered despite the signs indicating which side should face up and due to the excellent packing job, I did not have any issues with loss of dirt or damage to the plant. The only thing I would add is that the pots you order come separate from the plant, so you have to repot yourself if you order this way. And the plastic pot does not simply fit inside the terra-cotta planter if that is what you choose to order, as I did.
Great party favors!
Our daughter gave these out for her 8th birthday party as favors - we thought it would be a lot better than a goody bag with plastic toys that are later forgotten. We really liked the plants, they were shipped nicely, and they arrived in time despite our not thinking to order them until past the deadline. We woudl definitely order again!
Wedding
I used my purchase for wedding shower favors. They arrive in damaged, needing only some water. They were a huge hit among the guest because of their low maintenance requirements. They were presented in organza bags with foil around the container to hold moisture.
Payment & Security
Your payment information is processed securely. We do not store credit card details nor have access to your credit card information.
We take the stress out of Weddings, Showers, & Events with our:
Excellent Customer Service, Safe Shipping, and Beautiful Succulent Favors.