From customized candy to knick-knacks galore, we have all seen our fair share of fleeting wedding favors. Of course they are cute in the moment, but these favors never last longer than the duration of the wedding reception.
Instead of putting precious time and money into something that will only last moments, give your guests a gift that they can enjoy for years —an adorable succulent! This wedding favor trend is growing quickly because these party favors serve a variety of both aesthetic and practical functions.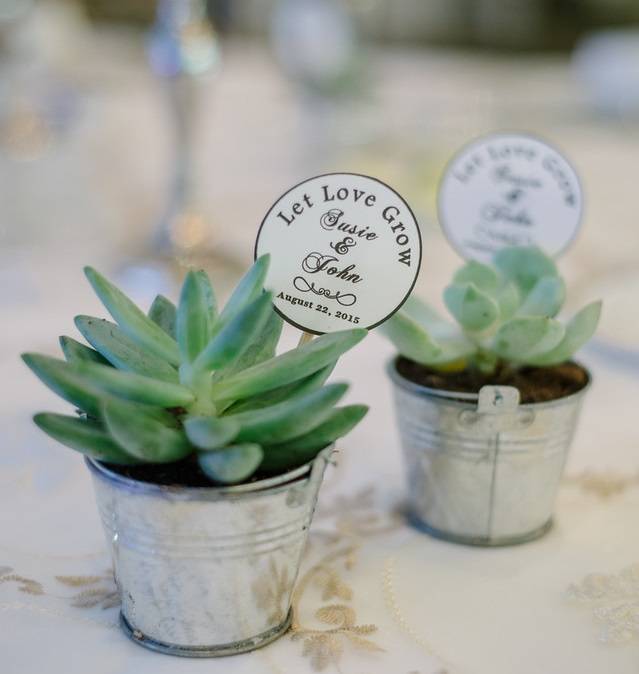 Brides are constantly looking for ways to bring life to their table settings without spending extravagant amounts money on massive centerpieces.
 Succulent wedding favors are wonderful complements to subtle centerpieces, adding more greenery and decor to the table.
Not only will your guests be receiving an on-trend gift, but your tables will also be bursting with beautiful live plants. Enhance your own wedding decor by opting for succulents as wedding favors.
In addition to bringing life to your table settings, succulents can also act as chic name cards and table number holders. Using gift tags or other favor flags, personalize each succulent with the guests' name to identify their placement on your seating chart. By doing this, guests will easily be able to find their seat and identify which party favor is theirs. If you are arranging guests by table rather than by specific seats, you can also use the favor flag to identify the table number. This practical function will help you cross two wedding tasks off of your checklist at once.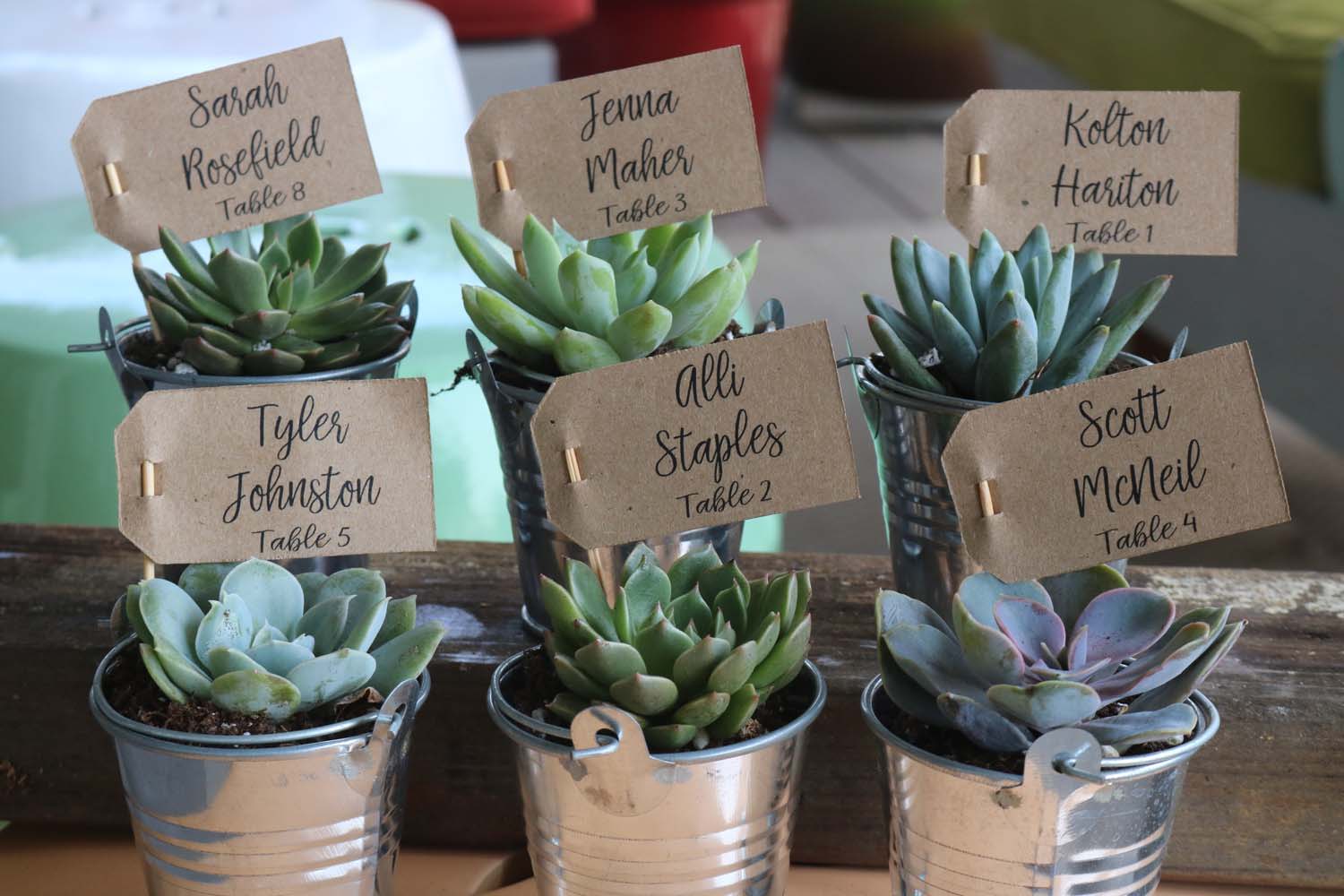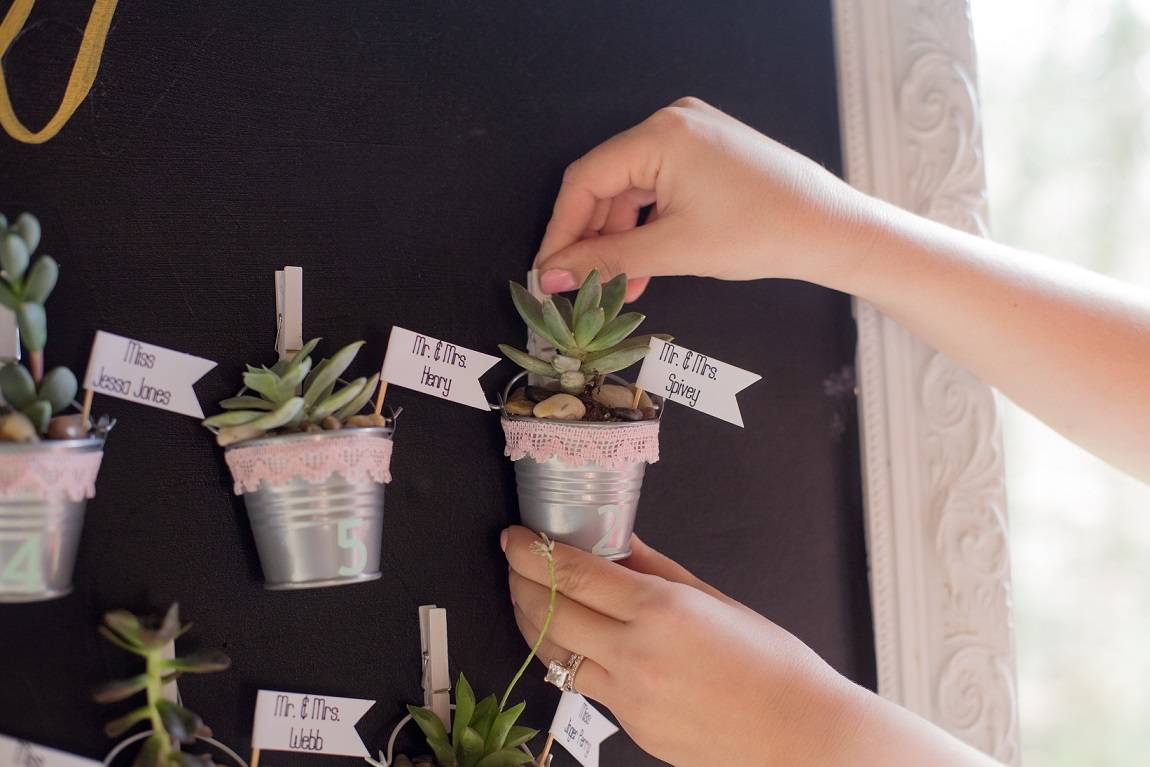 The bride and groom often like to include a personal thank you alongside each wedding favor, thanking guests for being a part of their special day. Use your decorative succulents to serve yet another function by delivering the message for you. Either directly on the succulents' pot or on a favor tag, include a brief thank you message for your guests. You can write a personal thank you that speaks to you and your partner, or take a look at some of these cute and clever succulent inspired sayings to spark your creativity:
Let love grow
Love is in bloom
Rooted in love
Let's grow together
Planting our roots
Thanks for helping us grow
We couldn't say "I do" without you
Mr. & Mrs., Est. ___ (wedding date)
Bride & groom's names + wedding date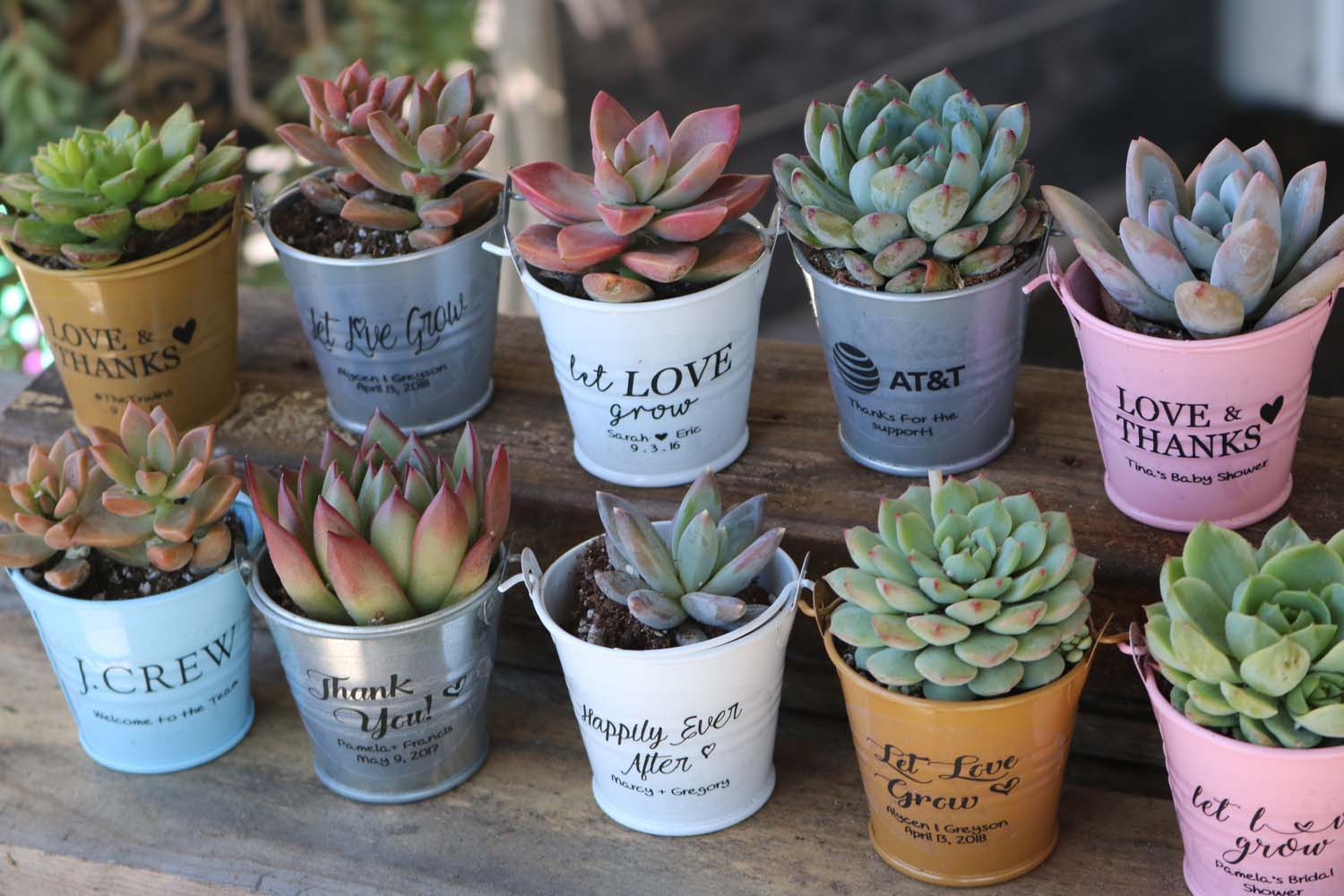 If your table settings are already filled to the brim, succulents as wedding favors can also serve as lush displays throughout your venue.
Create a display out of your succulents by using a structure with levels and tiers. You can also create a larger sign with one of the favor messages such as, "Take one home and watch love grow." By putting all of the succulents in one place, they will create a beautiful focal point for your wedding.
In addition to enhancing the overall decor, this display will serve as a wonderful photo opportunity for guests.
No matter the venue or color palette, succulents' subtle yet gorgeous colors seem to have a way of enhancing any wedding. The more greenery that is incorporated throughout the space, the more complete the venue appears. Not only can succulents seamlessly compliment a multitude of color schemes and spaces, but they also serve a variety of practical functions.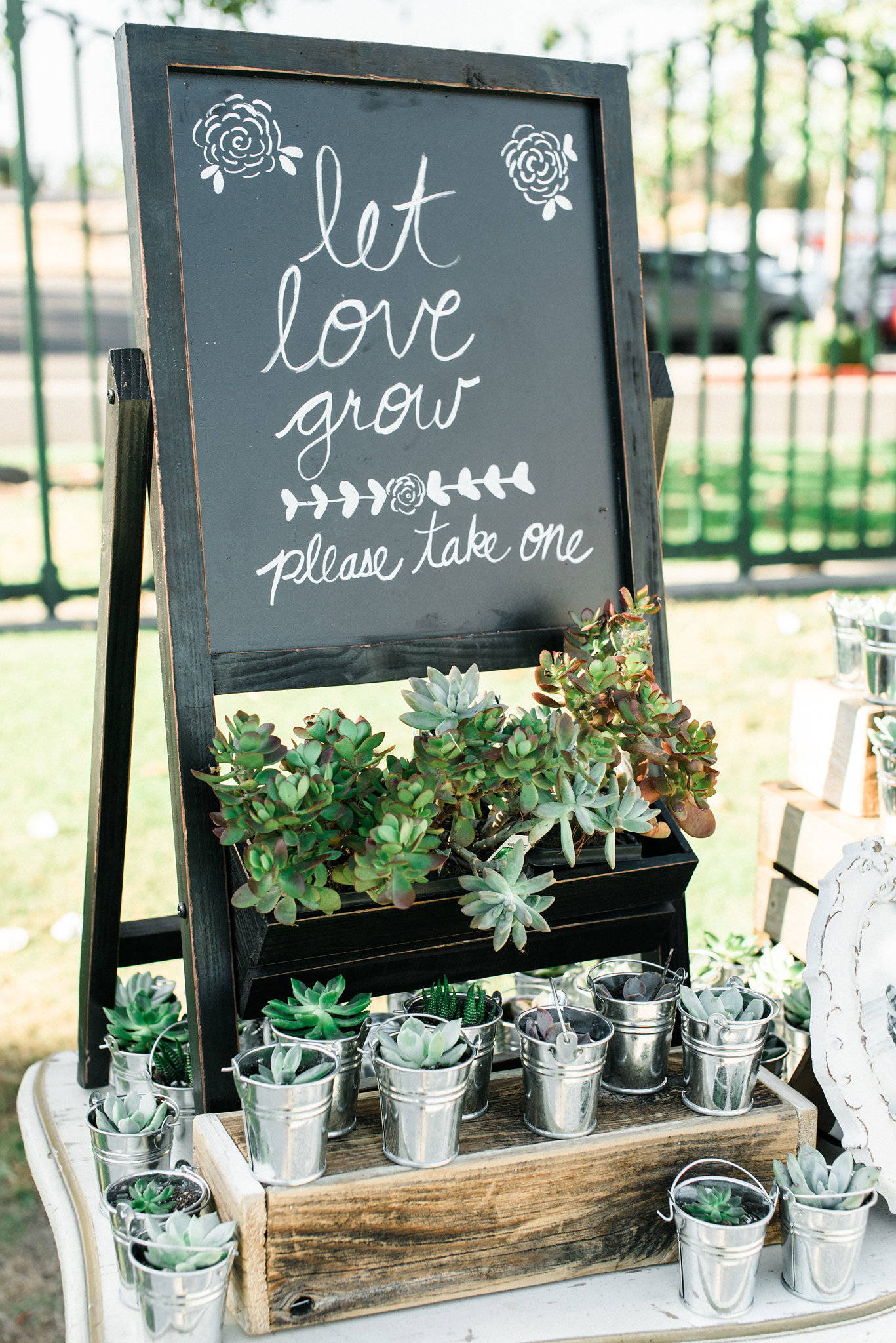 Favors, Bridal Accents, & Decor
Succulents aren't just for favors, you can style your entire wedding with them. We have a whole line of bridal accents includeing Bouquets, Crowns, Cuff, and Bouts. Instead of us just telling you, watch a succulent love story!
Weddings are notoriously expensive, so finding favors that will not break the bank is a huge asset. The Succulent Source lets you buy in bulk and ships straight to your door. Assorted two-inch succulents can be purchased for less than two dollars a plant, which is an amazing deal when you think about how many functions these trendy succulents serve.
In addition to a wide selection of plants ranging both in size and variety, you can also order decorative pots such as our pail pots, terra cotta pots, and glass pots. With such a large selection of succulents to choose from including all rosette (flower shaped) varieties, and a large selection of pots, you are bound to find the perfect combination for your wedding.
Finally, once you have said, "I do," guests can take their unique wedding favor home and enjoy this low-maintenance plant for years to come!
Shop now at the Succulent Source and impress your guests on your wedding day with these colorful and bright succulents!