Description
Succulents make amazing wedding or event favors!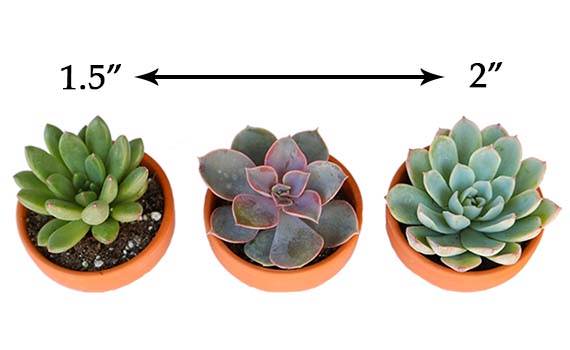 Our 2" succulents vary in width 1.5"-2"
Size depends on factors of type, shape & inventory.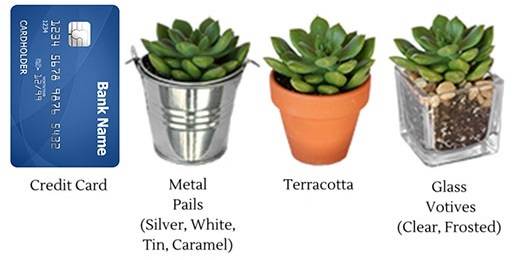 About the height of a credit card.
Pails - 2" tall, 2.25" wide (top)
Terracotta - 2.25" tall, 2.5" wide (top)
Votives - 2" square
Up to a YEAR in advance!
At minimum, try to order 2 weeks ahead of the date you need them.
Ordering late? Not a problem! We can usually complete rush orders. (additional shipping charges may apply)
Succulents ship USPS Priority 1-3 day or Fedex 2-5 day depending on size.

Your succulents will arrive 7-10 days prior to the event.
When checking out, add your event date for delayed shipping.
We ship 1000′s of succulents weekly, ALL year round, ALL over the country.
Our 9,000+ Reviews speak for themselves.
Issues? Let us know within 24 hours and we'll fix the problem!
What colors / types will I receive?
Succulents are mainly GREEN hues.
We have 60 types, we send the best quality plants we have in stock.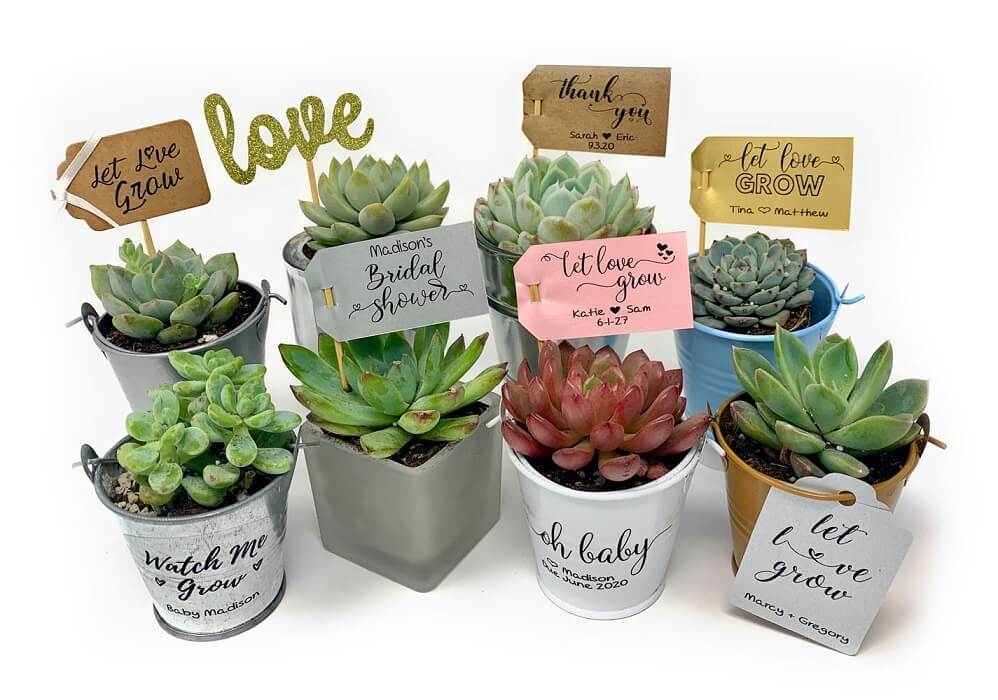 Add custom flags, tags, or stickers with your name, custom text or logo for added cute factor.
or Upgrade from plastic pots to: colorful Pails, Terracotta Pots or Glass Votives.
NOTE: ALL succulents ship in plastic pots. Transfer is done by you. Watch How Here
People Love Our 2" Assorted Succulents! Have a Read:
Lovely, healthy succulents!
I ordered 140 mixed succulents and they arrived on time, beautiful and healthy and really well packed! I gave two succulents as a favor to each guest at my son and d-i-l's baby shower (baby dinosaur theme 🙂). I packed the succulents in cute 2-cupcake gable boxes that had clear windows so that our guests could see the plants - some guests spent a lot of time choosing their favorite boxed set!
Our guests loved the favors and I saved a few plants for myself because I love them too!
Wedding party favor
I loved the customer service. But, I live in New York and I guess the express shipping and heat pack wasn't good enough. Bought 30 succulents and 5 were dead by the time they got to me. Tried to revive them, but wasn't sure how! Besides that, everything was great and the were so cute!
Hi there Jessie, I am super bummed that you lost 5 plants in transit! We do the best we can to get them to you happy and healthy. Even though they shipped 2-day through FedEx and a heat pack was used it sounds like some just couldn't withstand the ride. I would be happy to refund you for those little guys if you would like. Please just let me know :) -Kelly
The most beautiful party favors
My daughter gave out these beautiful succulents as favors at her Quinceanera. They not only arrived in perfect condition, but the variety sent and the quality was amazing! They are all thriving and everyone just loves them! Thank you Succulent Source!
I purchased these succulents to serve as wedding guest gifts. They arrived on time and in great condition. I particularly liked the variety of succulents I received and the care instructions included for those of us without a green thumb. I certainly will order again and recommend!
Payment & Security
Your payment information is processed securely. We do not store credit card details nor have access to your credit card information.
We take the stress out of Weddings, Showers, & Events with our:
Excellent Customer Service, Safe Shipping, and Beautiful Succulent Favors.