Description
Succulents make amazing wedding or event favors!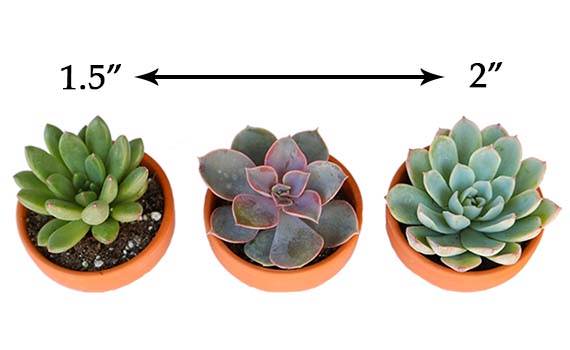 Our 2" succulents vary in width 1.5"-2"
Size depends on factors of type, shape & inventory.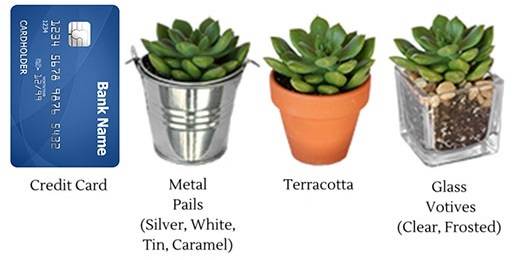 About the height of a credit card.
Pails - 2" tall, 2.25" wide (top)
Terracotta - 2.25" tall, 2.5" wide (top)
Votives - 2" square
Up to a YEAR in advance!
At minimum, try to order 2 weeks ahead of the date you need them.
Ordering late? Not a problem! We can usually complete rush orders. (additional shipping charges may apply)
Succulents ship USPS Priority 1-3 day or Fedex 2-5 day depending on size.

Your succulents will arrive 7-10 days prior to the event.
When checking out, add your event date for delayed shipping.
We ship 1000′s of succulents weekly, ALL year round, ALL over the country.
Our 9,000+ Reviews speak for themselves.
Issues? Let us know within 24 hours and we'll fix the problem!
What colors / types will I receive?
Succulents are mainly GREEN hues.
We have 60 types, we send the best quality plants we have in stock.
Looking for more colorful  succulents?
Our rosette wedding succulents have the most vaiation in color.
(More appropriate when you need more color "Pop"!)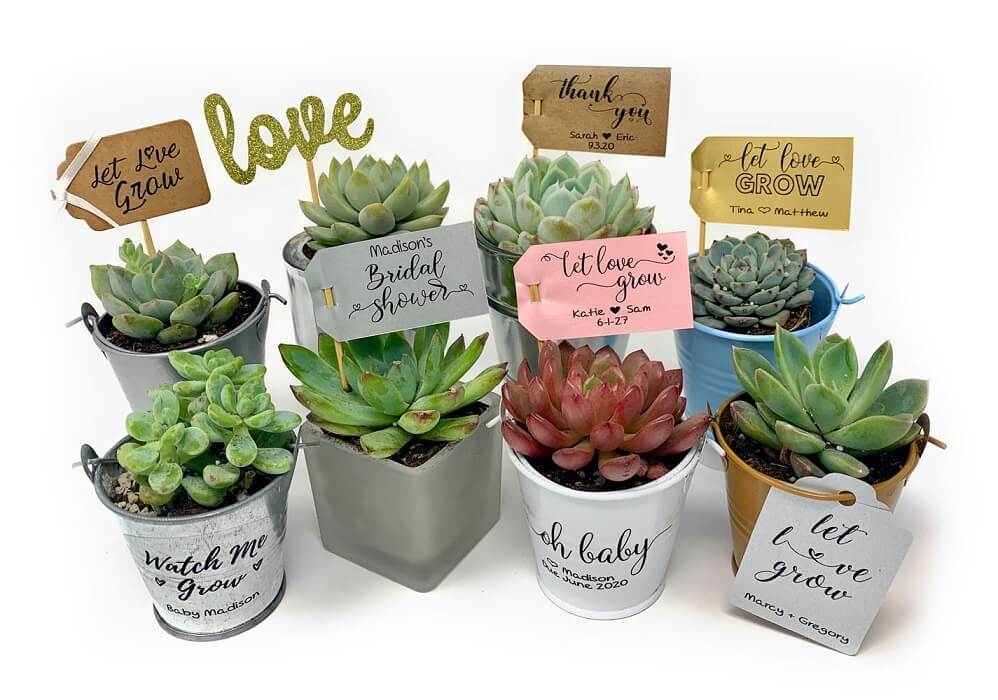 Add custom flags, tags, or stickers with your name, custom text or logo for added cute factor.
or Upgrade from plastic pots to: colorful Pails, Terracotta Pots or Glass Votives.
NOTE: ALL succulents ship in plastic pots. Transfer is done by you. Watch How Here
People Love Our 2" Assorted Succulents! Have a Read:
Excellent!
The succulents we're in great condition and the shipping was fast. Their prices are the best I could find on the internet and I'm so happy with my purchase. You can tell they take great care of their plants and their customers.
Love these succulents
They came perfectly ! None of them were beat up, they had some dirt on the leaves but it was easy to clean. Came in time and I would recommend this company to everyone ! Thanks so much for my order !
Neatly packed, arrived on time
Despite shipping from west coast to east coast, the plants were still intact in their soil and were all in good shape. Arrived on time. Instructions are easy and clear.
So happy with the order that I'm placing another even larger order soon!
I placed an order for 12 2" assorted succulents and they arrived in perfect condition (the packing job was amazing! - way better than any other nursery I've ordered from online before) with less dirt displaced than expected, even though I was handed the package upside-down from my mail room. The succulents are beautiful and extremely healthy. I'm beyond grateful for The Succulent Source taking note that it was all for one person and only gave one repeat which was pleasantly surprising. The additional I received an email with my order linking to A LOT of additional resources on how to take care of my plants was more guidance than I've received from every other in-person or online place I've ever purchased plants from. I'm so happy I found The Succulent Source and was so pleased with my order that I'm planning on placing another order or order soon for some friends' and family members' birthdays, as well as a bunch for myself. The lowest prices for succulents and cacti that I've been able to find after much research seal the deal: I'm not planning on ordering from other nurseries unless they have something that The Succulent Source doesn't.
Payment & Security
Your payment information is processed securely. We do not store credit card details nor have access to your credit card information.
We take the stress out of Weddings, Showers, & Events with our:
Excellent Customer Service, Safe Shipping, and Beautiful Succulent Favors.