Description
Succulents make amazing wedding or event favors!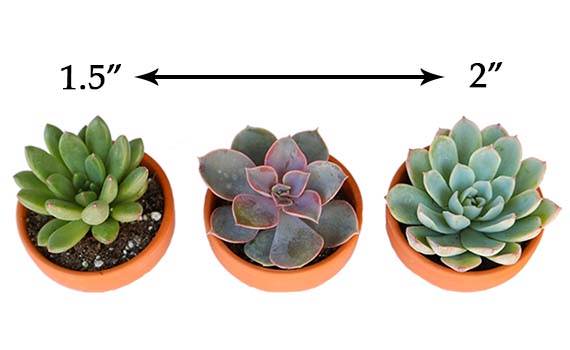 Our 2" succulents vary in width 1.5"-2"
Size depends on factors of type, shape & inventory.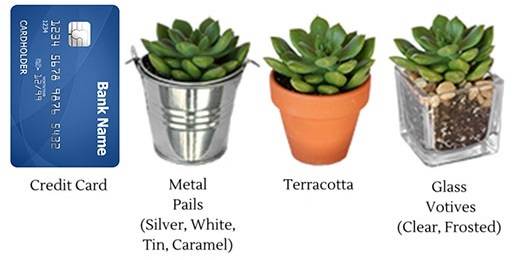 About the height of a credit card.
Pails - 2" tall, 2.25" wide (top)
Terracotta - 2.25" tall, 2.5" wide (top)
Votives - 2" square
Up to a YEAR in advance!
At minimum, try to order 2 weeks ahead of the date you need them.
Ordering late? Not a problem! We can usually complete rush orders. (additional shipping charges may apply)
Succulents ship USPS Priority 1-3 day or Fedex 2-5 day depending on size.

Your succulents will arrive 7-10 days prior to the event.
When checking out, add your event date for delayed shipping.
We ship 1000′s of succulents weekly, ALL year round, ALL over the country.
Our 9,000+ Reviews speak for themselves.
Issues? Let us know within 24 hours and we'll fix the problem!
What colors / types will I receive?
Succulents are mainly GREEN hues.
We have 60 types, we send the best quality plants we have in stock.
Looking for more colorful  succulents?
Our rosette wedding succulents have the most vaiation in color.
(More appropriate when you need more color "Pop"!)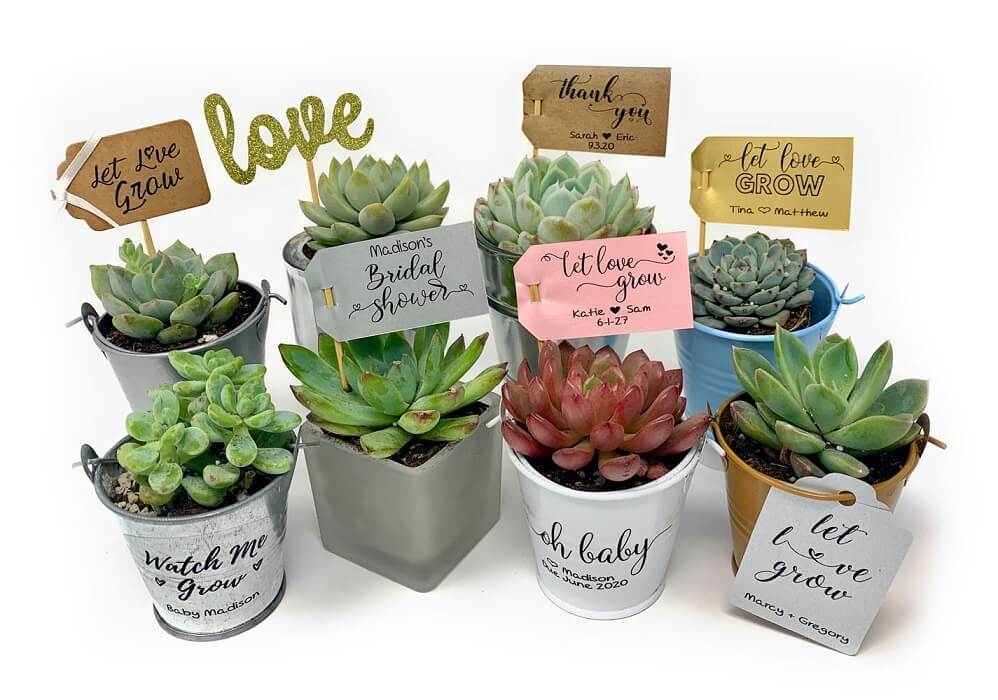 Add custom flags, tags, or stickers with your name, custom text or logo for added cute factor.
or Upgrade from plastic pots to: colorful Pails, Terracotta Pots or Glass Votives.
NOTE: ALL succulents ship in plastic pots. Transfer is done by you. Watch How Here
People Love Our 2" Assorted Succulents! Have a Read:
My First Order
I was very pleased with my order overall. Order was shipped and delivered in the timeframe given and during a TEXAS Snow Storm. A few of the succulents were smaller in size. Also, was not a fan of the packing peanuts but overall pleased.
Great speed and quality
Plants arrived incredibly quickly, within 2 business days. Came very vigorous and healthy as well. 10/10
The cutest!
I ordered 9 succulents for Galentine's Day gifts I was making and I could not have been happier. They gave me all different succulents that were in great shape when they got to me- which was 3 days from order to arrival across the country to New Jersey. I will definitely be ordering from you again! Thanks for making my gifts complete!
My first order
Ordered in the dead of winter here in the Midwest. I was skeptical, but all plants arrived in good shape. I will order again. My only criticism is the use of styrofoam peanuts.
Payment & Security
Your payment information is processed securely. We do not store credit card details nor have access to your credit card information.
We take the stress out of Weddings, Showers, & Events with our:
Excellent Customer Service, Safe Shipping, and Beautiful Succulent Favors.