Description
Succulents make amazing wedding & event favors!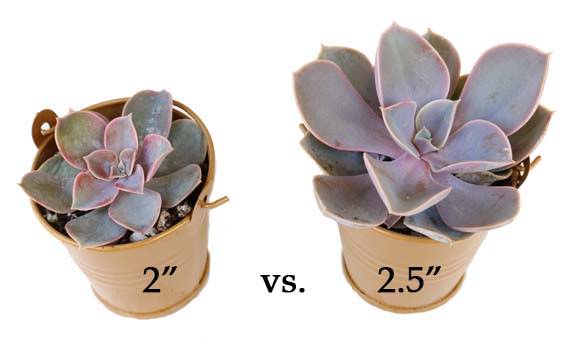 These succulents are hardy and full.
They will vary in width (2.25" - 3") depending on factors such as type, shape or inventory.
About the height of a credit card.
Pails - 2" tall, 2.25" wide (top)
Terracotta - 2.25" tall, 2.5" wide (top)
Votives - 2" square
Up to a YEAR in advance!
At minimum, try to order 2 weeks ahead of the date you need them.
Ordering late? Not a problem! We can usually complete rush orders. (additional shipping charges may apply)
Succulents ship USPS Priority 1-3 day or Fedex 2-5 day depending on size.

Your succulents will arrive 7-10 days prior to the event.
When checking out, add your event date for delayed shipping.
We ship 1000′s of succulents weekly, ALL year round, ALL over the country.
Our 9,000+ Reviews speak for themselves.
Issues? Let us know within 24 hours and we'll fix the problem!
What colors / types will I receive?
Succulents are mainly GREEN hues.
We have 60 types, we send the best quality plants we have in stock
Looking for more colorful  succulents?
Our rosette wedding succulents have the most vaiation in color.
(More appropriate when you need more color "Pop"!)
Did you know we sell these in a Monthly Subscription?
Get 5 unique types each month here!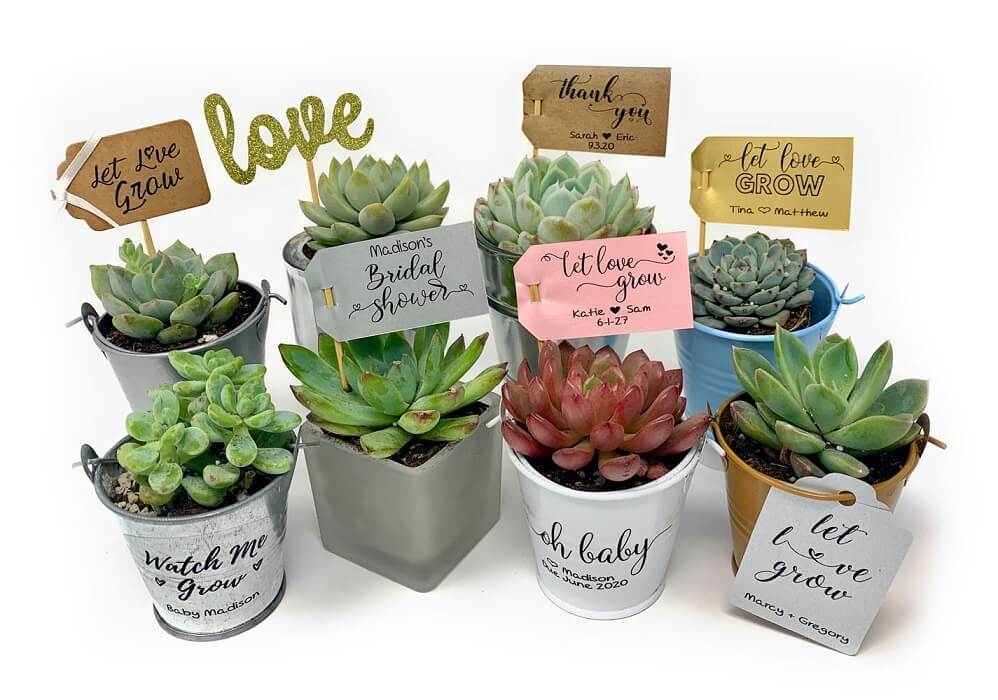 Add custom flags, tags, or stickers with your name, custom text or logo for added cute factor.
or Upgrade from plastic pots to: colorful Pails, Terracotta Pots or Glass Votives.
NOTE: ALL succulents ship in plastic pots.
Transfer is done by you. Watch How Here
People Love Our 2.5" Assorted Succulents! Have a Read:
Beautiful
No one has succulents right now and my dog has a fascination with eating cactus and succulents from my collection so I needed one. I heard great things about this company, I'm definitely not disappointed and will order from here again!!
interesting
i chose this just for a surprise and ended up getting the hanging succulent one - very cool! be warned, it comes with tons of styrofoam peanuts - wish they'd use something else...styrofoam is so bad for our planet!
Disappointed
My order did not arrive but I received a request for a review so I called the company. At first, I was told that their records showed that it had been delivered prior to Christmas. I told her that I had not received it and then she admitted that they had a problem with the Post Office messing up their orders and that they would certainly resend my order. I was pleased with her response but then my order finally arrived. Over half of the leaves on the plant were broken off, the dirt was everywhere and the part of the plant that was not broken was completely covered with dirt. I think they made a concerted effort to package the plant to avoid this - but it did not work. Considering the whole debacle - I think they need to change shipping options! Unfortunately, I would be reluctant to order from them in the future.
We are so sorry that you were adversely affected by shipping with both shipments that we sent to you. Unfortunately we cannot control how the packages are handled once they leave us. It is just as frustrating for us as it is for our customers when it looks like our packages have been tossed about and our Fragile stickers are completely disregarded. Please send us pictures of the plants from the order you received so we can see them and we can work with you to make this order right.
Payment & Security
Your payment information is processed securely. We do not store credit card details nor have access to your credit card information.
We take the stress out of Weddings, Showers, & Events with our:
Excellent Customer Service, Safe Shipping, and Beautiful Succulent Favors.