Description
Succulents make amazing wedding & event favors!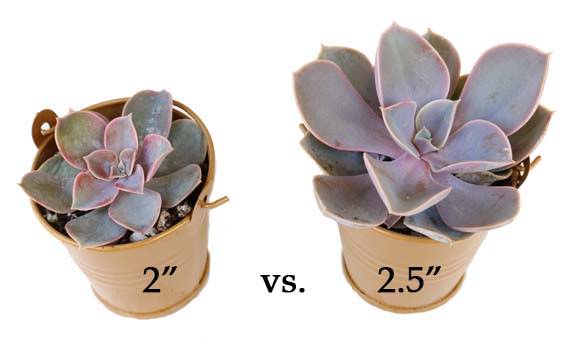 These succulents are hardy and full.
They will vary in width (2.25" - 3") depending on factors such as type, shape or inventory.
About the height of a credit card.
Pails - 2" tall, 2.25" wide (top)
Terracotta - 2.25" tall, 2.5" wide (top)
Votives - 2" square
Up to a YEAR in advance!
At minimum, try to order 2 weeks ahead of the date you need them.
Ordering late? Not a problem! We can usually complete rush orders. (additional shipping charges may apply)
Succulents ship USPS Priority 1-3 day or Fedex 2-5 day depending on size.

Your succulents will arrive 7-10 days prior to the event.
When checking out, add your event date for delayed shipping.
We ship 1000′s of succulents weekly, ALL year round, ALL over the country.
Our 9,000+ Reviews speak for themselves.
Issues? Let us know within 24 hours and we'll fix the problem!
What colors / types will I receive?
Succulents are mainly GREEN hues.
We have 60 types, we send the best quality plants we have in stock
Did you know we sell these in a Monthly Subscription?
Get 5 unique types each month here!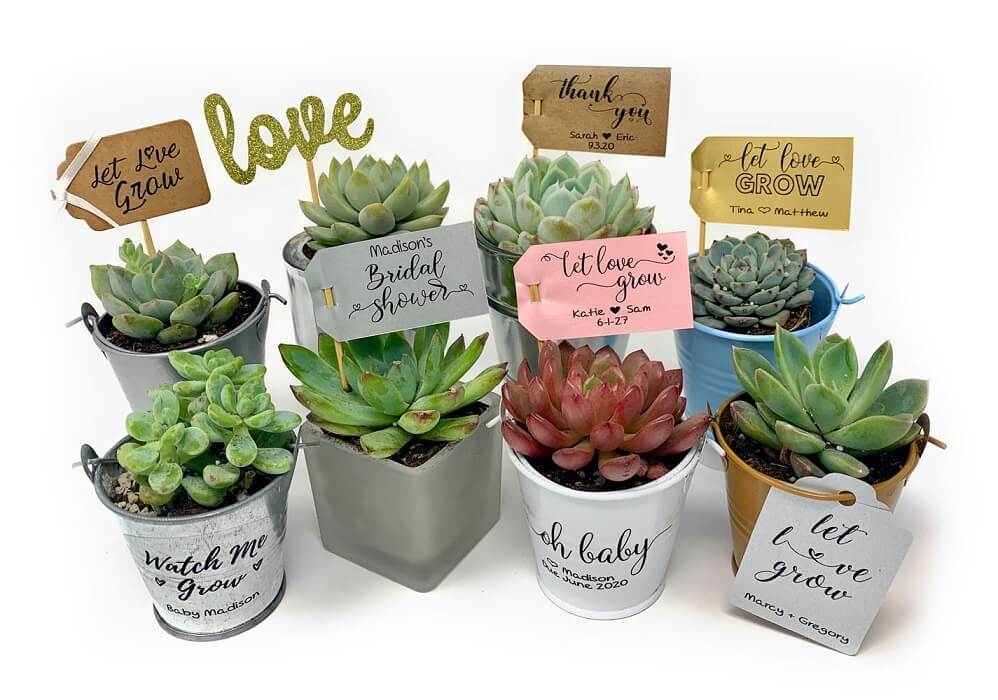 Add custom flags, tags, or stickers with your name, custom text or logo for added cute factor.
or Upgrade from plastic pots to: colorful Pails, Terracotta Pots or Glass Votives.
NOTE: ALL succulents ship in plastic pots.
Transfer is done by you. Watch How Here
People Love Our 2.5" Assorted Succulents! Have a Read:
So much better than box stores
I bought these succulents as a favor for my daughter's college graduation party. They came well packaged and in great shape. I'm so glad I decided to purchase from The Succulent Source and not Lowes. The slightly bigger size and the much better quality made them stand out as a sweet, quality gift!
Absolutely wonderful! All of the plants arrived in perfect condition! I ordered them for my daughter's bridal shower and everyone loved them:))
Thank you !
Awesome succulents!
The succulents arrived on time, well packaged, and every single one was healthy and intact. They made wonderful baby shower favors! I ordered them in small plastic containers, and used my own ceramic pots.
Payment & Security
Your payment information is processed securely. We do not store credit card details nor have access to your credit card information.
We take the stress out of Weddings, Showers, & Events with our:
Excellent Customer Service, Safe Shipping, and Beautiful Succulent Favors.